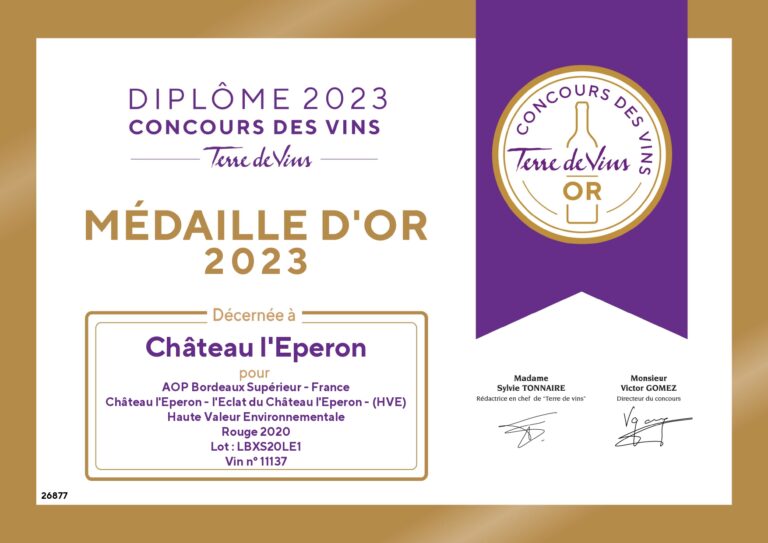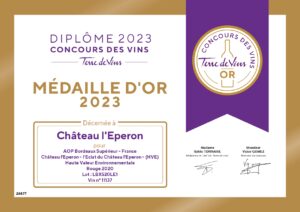 We are pleased to announce that our wine, L'Eclat du Château L'Eperon 2020, has been awarded a gold medal at the prestigious Terre de vins competition. This competition brought together over 2,300 samples from different wine regions of France for evaluation by a panel of professional tasters, including sommeliers, wine merchants, and importers. The judges were particularly impressed by the intensity and aromatic quality of our wine.
L'Eclat du Château L'Eperon 2020 is the ideal wine to accompany the season's barbecues with your loved ones. Whether it is a relaxed evening with friends or a joyful family gathering, this wine will bring a touch of elegance and refinement to every moment shared.
We are proud to celebrate this success with you and would like to raise our glasses to this special moment. You can now place your orders on our website www.chateau-leperon.com and enjoy our award-winning wine in the comfort of your home. Our team is at your disposal to answer all your questions and guide you in your choice.
L'Eclat du Château L'Eperon 2020 embodies the excellence and passion that drives our winery. Each sip reveals a subtle marriage between the carefully selected grape varieties and the know-how of our winemakers. We are honored to have our work rewarded and we would like to warmly thank all those who have contributed to this success.
By choosing our wine, you are selecting authenticity and craftsmanship. Each bottle is the result of a long process, from the vine to the bottle. We make it a point of honor to respect wine-growing traditions while innovating to offer exceptional wines that reflect our terroir and our passion.
We invite you to discover for yourself the captivating aromas and finesse of L'Eclat du Château L'Eperon 2020. Order now and let yourself be carried away by the unique sensory experience offered by this exceptional wine. Cheers!